look 1//frax
EVA foam and worbla sculpted bodice over vinyl spandex jumpsuit, paired with fleece emo bunny balclava and vinyl spandex thigh highs.




look 2//ryl0
vinyl spandex bodysuit with hand dyed ribbed knit sleeves and hand stuffed
vinyl piping trim.paired with eva foam hip spheres, leg armour,
plush ears, and quilted vinyl leg warmers with blue velvet lining.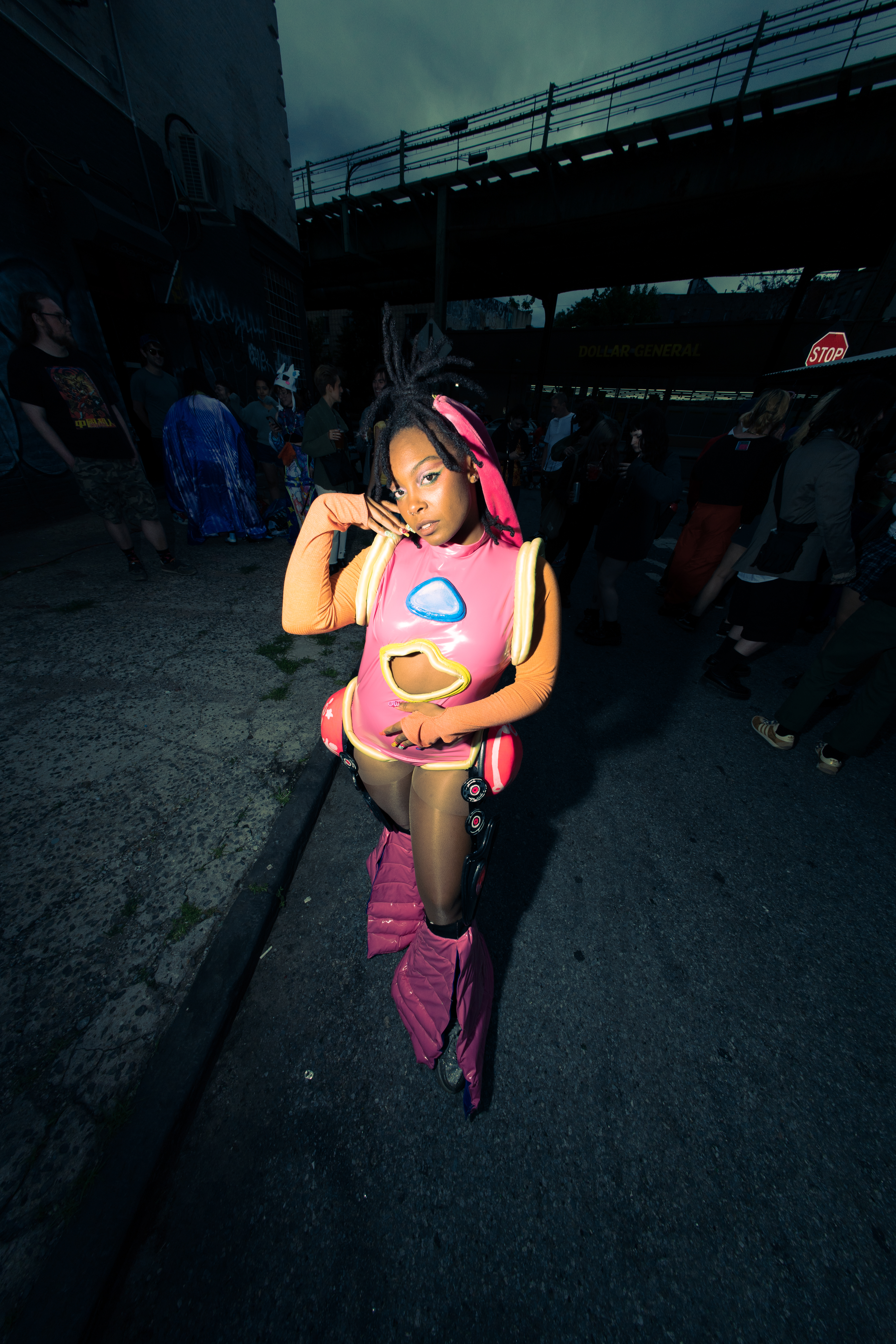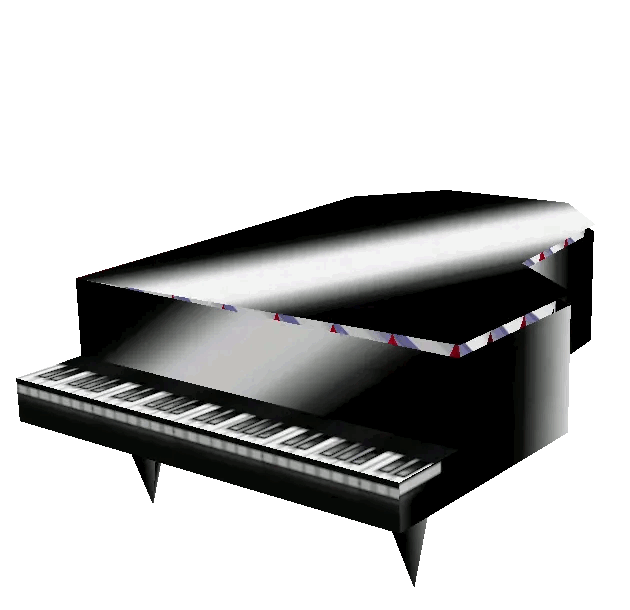 look 3//coco
eva foam and worbla sculpted bodice, paired with canvas and fo
with adjustable straps, black shorts, cat ears, and fleece and worbla paws

look 4//rylee
original textile marbled velvet cape with mesh circular panels and velcro back closure.
paired with purple opera gloves and cat ears.
rylee wears a fortune screenprinted tank and muai thai boxing shorts underneath.



look 5//angelica

eva foam butterfly bodice with pearl choker shoulder straps and open back buckle closure,
with vinyl spandex skirt and legwarmers. skirt and legwarmers features soft sculpture hip shaping,
hand stuffed piping, eva foam gem spheres, and blue velvet lining.
paired with handmade fossshape armwarmers and plush ear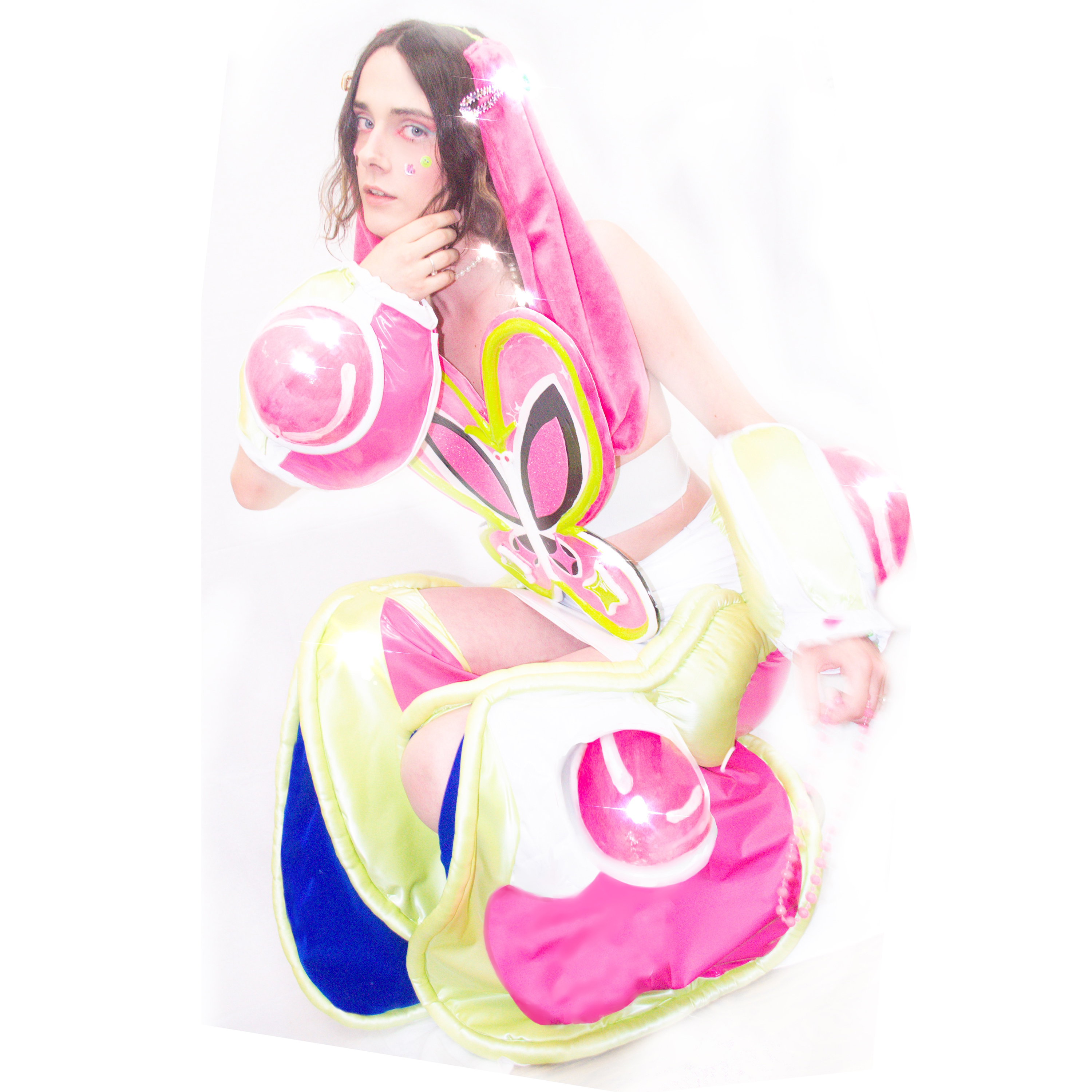 look 6//edie
ribbed knit crop top with felt and embroidery lazer argyle applique. original blinkie textile cotton twill shorts with rounded side panels, 3m piping trim, and detachable back pocket flap. paired with original textile cotton twill armwarmers and legwarmers, lined with blue velvet, a fleece bunny balclava, oversized faux fur heart tote, back bling eva foam wings, hand made resin slime shoes, and additioal accessories provided by edie.



look 7//ori
original lazer textile lucent satin robe lined with white satin, featuring two mid-arm armhole
and accompanying hand painted red satin sashes. green crepe de chine crop top with shaped back detail
and front closure snaps. hand dyed denim pants with rounded side panel, dyed piping, front pockets,
and drawstring leg closures. paired with fleece kitty balclava, purple lace gloves, and hand painted chelsea boots.

look 8//devon
patchwork halter neck dress with open back and around the neck bunny ear closure.
black satin kimono style cape with mesh circular paneling. paired with cat ears,
fortune face shape bag, and custom heelys by henhouse.

look 9//mars
cotton twil and marbled velvet phat pants, with quilted round side panels, piping, hand stuffed jumbo piping at bottom, marbled velvet and adjustable straps. ribbed knit crop top with hand felted and embroidered
lazer argyle applique. cotton zip up sweatshirt with original tiger textile print, produced by contrado.
paired with fleece angel cat hat, eva foam back bling wings, orange fuzzy clutch bag,
scene bunny plushie backpack, and handmade slimey resin jelly shoes.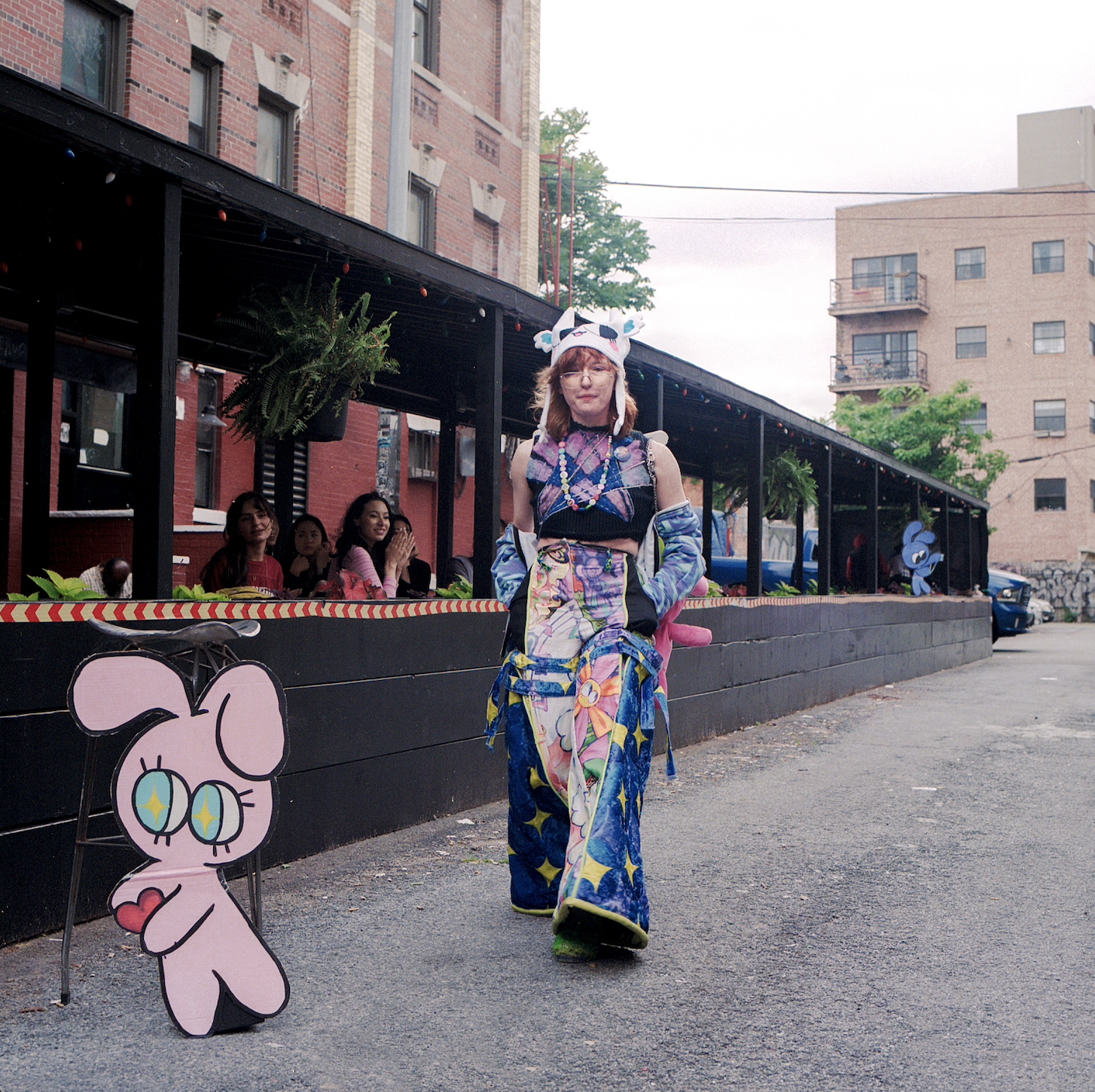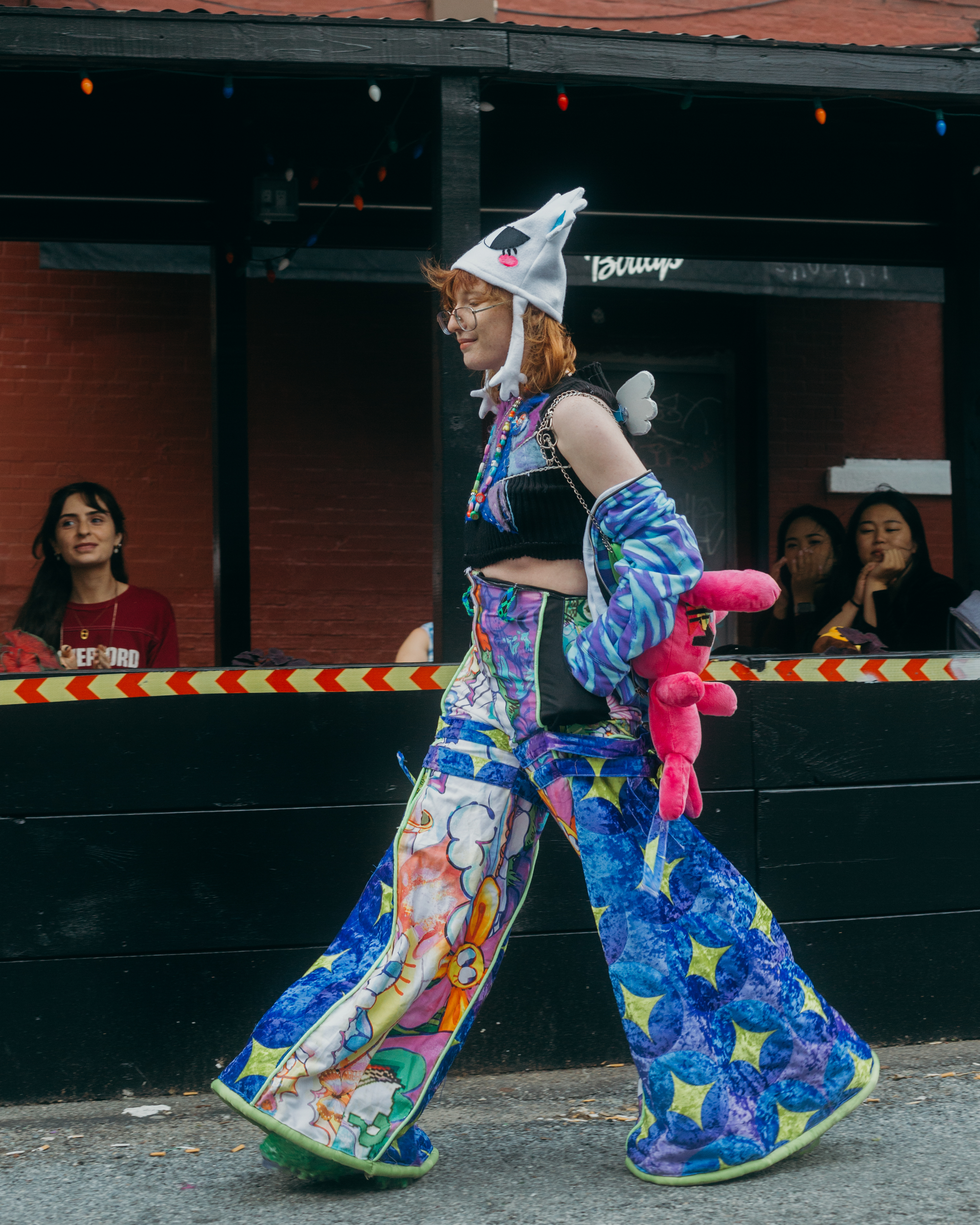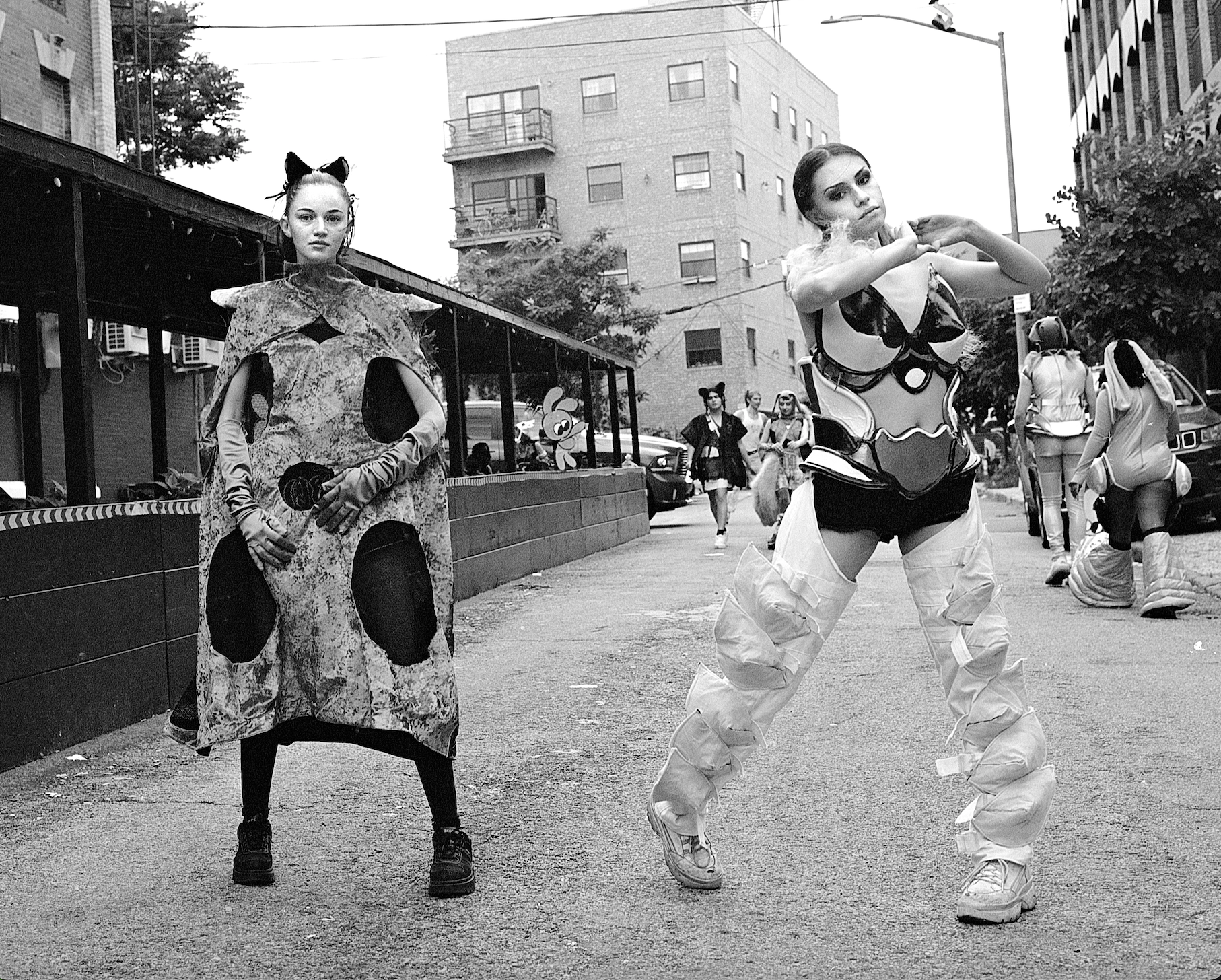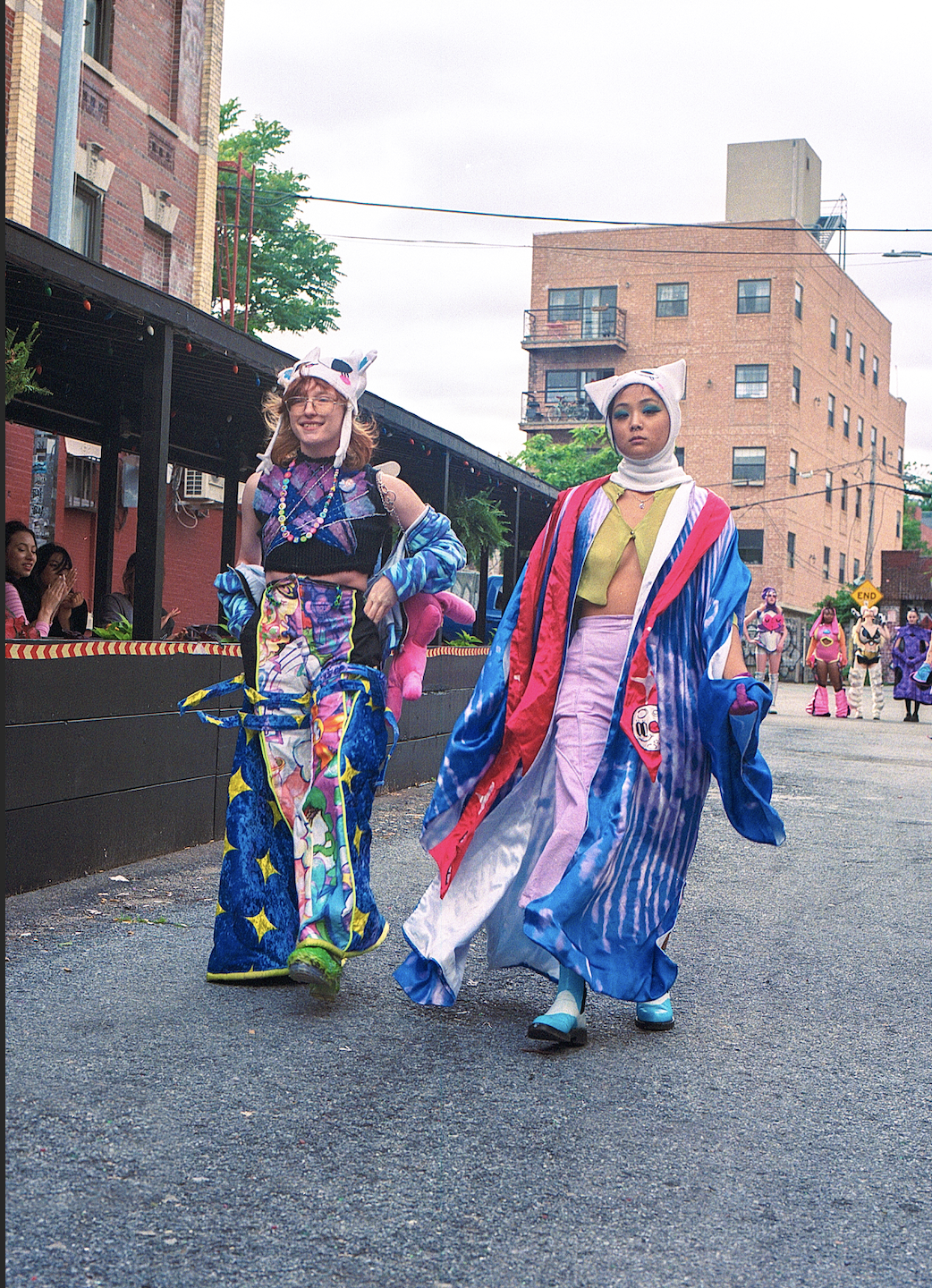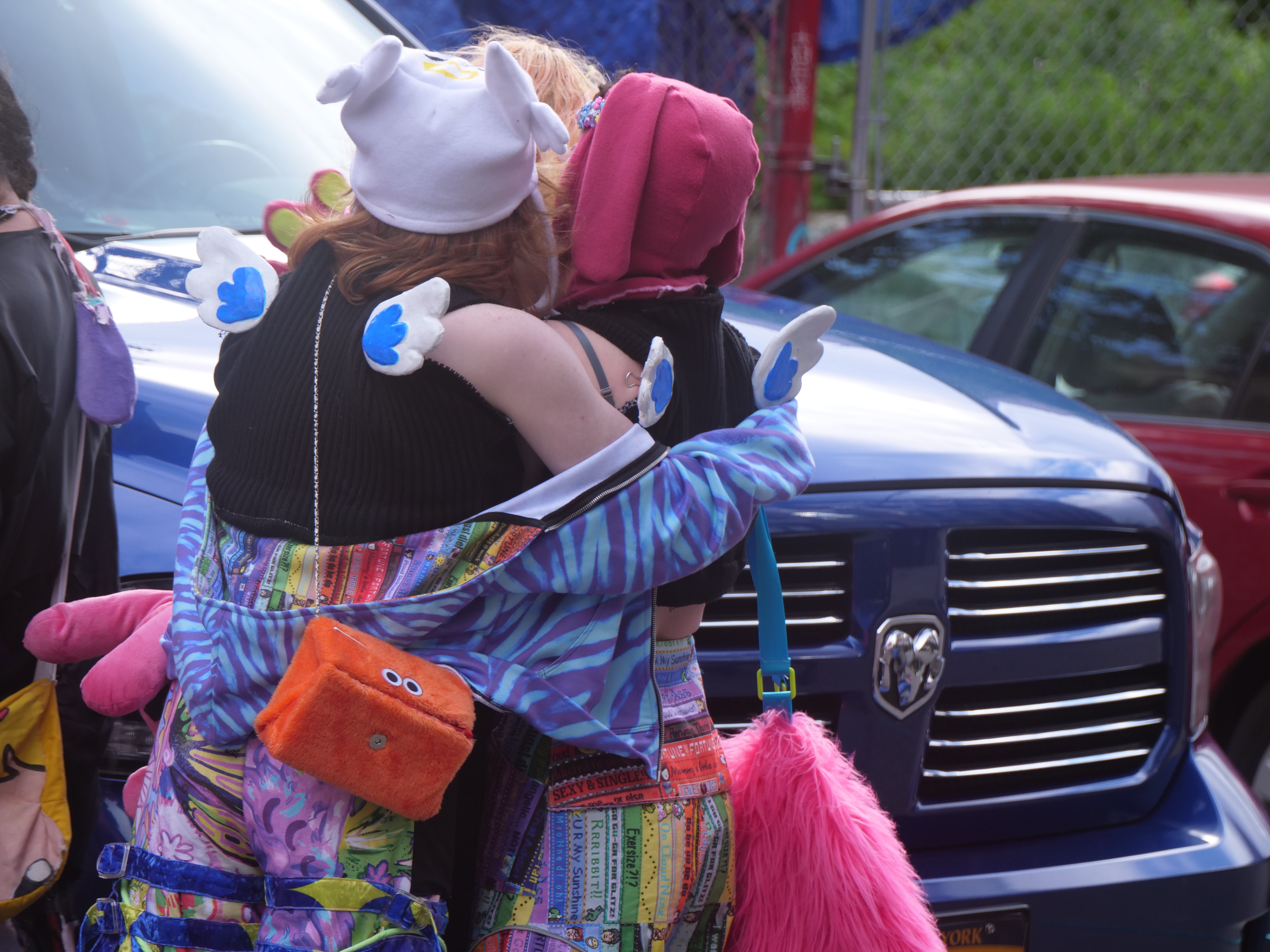 THANK YOU!!!!!!!!
credits

photos by ben zazzara @pbandzee,
dillon edlin @edlin.tif, and max durante @max.dur

all clothes designed and made by hand by elena fortune

mars's sweatshirt produced by contrado
all custom printed textiles produced by contrado

modeling by fraxiom music, ryl0, coco brando, rylee stumpf, angelica petal supply, edie puffdaughter, ori zwerdling, devon underscores, and mars sodapickles. thank you so much.